Recipe of the Week + 4th of July Recap

For a 4th of July party
at a home where Andrew gardens we made
Cherry Berries on A Cloud
--4th of July style, of course.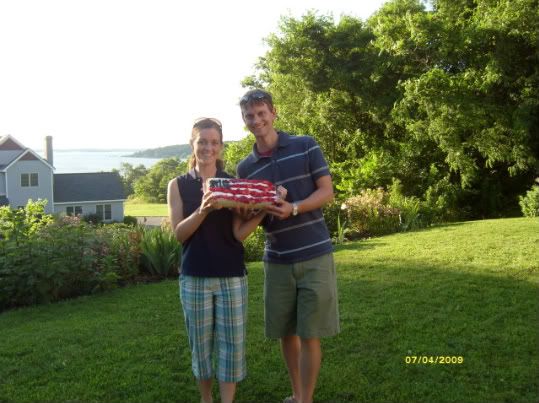 It's a dessert you definitely have to prepare for--it has to sit overnight.
Prep: 20 min.
Chilling: 12 hours
Bake: 1 hour + cooling
Ingredients:
MERINGUE:
6 egg whites
1/2 teaspoon cream of tartar
1/4 teaspoon salt
1-3/4 cups sugar
FILLING:
2 packages (3 ounces each) cream cheese, softened
1 cup sugar
1 teaspoon vanilla extract
2 cups miniature marshmallows
TOPPING:
1 can (21 ounces) cherry pie filling
2 cups sliced fresh strawberries
1 teaspoon lemon juice
(We added blueberries to make the flag)
Directions:
Place egg whites in a large bowl; let stand at room temperature for 30 minutes. Add cream of tartar and salt; beat until foamy. Gradually add sugar, 1 tablespoon at a time, beating on high until stiff peaks form (do not under beat). Spread evenly in a greased 13-in. x 9-in. baking pan. Bake at 275° for 1 hour; turn off oven (do not open door). Let cool in oven overnight or at least 12 hours.
In another large bowl, beat the cream cheese, sugar and vanilla until smooth; gently fold in
whipped cream
and marshmallows. Spread over meringue. Chill for 4 hours. Cut into 16 pieces. Combine topping ingredients; spoon 1/4 cup over each serving.
Yield: 16 servings.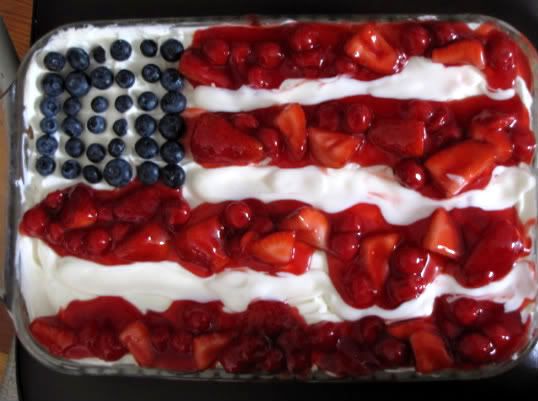 Bake it up and enjoy!! It's
amazing
!