Yea, that's right. While some of you were kicking back and sipping eggnog, a very important holiday was among us;)
I arrived home from Thanksgiving vacation to a letter from my sweet boyfriend explaining to me the 12 days of Christmas, the 8 days of Hanukkah and this year's specialty: the 12 days of Kimberly. My birthday is 12/12, so it was fitting to use the first 12 days of the month:)
Here is the fun that you missed out on over the past two weeks (I thought I'd do one big one at the end and spare you the excitement/drama/nausea each day):
Day 1: Letter announcing the celebration
Day 2: Pictures of Davenport Hall. The place on U of I's campus where Andrew and I first met. Not just pictures, but black and white, 8x10 pictures he took during
each
season of the year to capture the building in its entirety and the longevity of it's endurance!
Day 3: Three U of I t-shirts so I could show off my grad school pride and reminisce about our memories in Cham-bana.
Day 4: An incredible poem! A perfect and sweet ode to our relationship.
Day 5: A beautiful bouquet of Gerber daisies!
Day 6: One Fine Birthday Memory.
Andrew's favorite column in the Chicago Tribune is the
One Fine Day
feature on Saturdays. They select a
Chicago
neighborhood and give you an itinerary of how to spend one fine day in that area. Well, after I moved out here he would sporadically send me a One Fine Memory letter which would retell a funny or memorable event in our relationship. For example, in one he chose to highlight the evening he had a friend in town and we were at a school get together when I started having a terrible allergic reaction to the cat, swelled up, couldn't stop sneezing and coughing, and we had to rush to Walgreen's to get something for me and his friend was forced to spend the rest of the night catering to my allergic reaction and watching movies.
Day 7: Winter Crocs! Mammoth Crocs, to be exact! (The brown ones!)
Day 8: A Free Date coupon--homemade with a bar code and everything! (This is obviously not the one)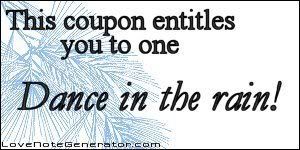 Day 9: A PBS JFK documentary! I adore JFK, which is ironic since the documentary turned out to be about the assassination, a conspiracy theory, and the Cuban Missal Crisis. "The Man, The President, and The Tragedy" turned out to be a very inaccurate title.
Day 10: A fancy kitchen knife. To our surprise, this is apparently a cultural no-no. I had a co-worker who flipped out and made me Google it. Not a good discovery if you're superstitious.
Day 11: A mini salad spinner!! I'm pretty pumped about this. You know you're getting old when salad spinners and chopping knives are exciting!
Day 12: A dinner date at the Melting Pot. I absolutely love fondue and it was incredible!
All except a little trouble we had at the end of the date, when we thought we'd see how the lettuce/cabbage bed from our meat plate reacted to the boiling hot oil. You can only imagine, but it sizzles like bacon on Sunday morning--so much so that one may get burned by the splatter and drop the whole leaf in the oil, which then leads to sparks like a firework on the 4th of July. And what does my sweet man who dropped the lettuce in the oil do? He takes his napkin from his lap, motions towards throwing it over the pot to cover it, but at the last minute covers his face instead and leaves me to quickly fish the foliage out before getting burned to death or busted by the waitress! Classic;)
Anyway, the two week period was remarkably fun! I don't know if you can imagine what it's like to get one present every day for 12 days, but it's incredible. And I never knew what was coming so I didn't know where it would be sent. Packages were sent to work and envelopes to my apartment, but it was a constant guessing game. The hardest days were when two would arrive the same day and I was tormented by the early gift for hours!
I would like to congratulate Andrew for being 10 for 10 by being either on time or early with every gift!! (He brought 11 and 12 with him on the plane.) I don't know how he did it, but it was remarkable. I told him he would win a "prize" if he was 10 for 10, so now I have to think of a worthy prize. Any ideas? I feel like the word "prize" renders a child-like gift, but his parcel-mastering skills were anything but amateur! My co-workers even got into the spirit, checking to see what I was receiving each day. A highlight was when my co-worker, also named Andrew, brought in two parcels on Day 6, slammed them down and said, "This is sick. Who are you? Julia Roberts in some romantic comedy?!"