A high point of my week, occurred this afternoon. It was like a scene out of
The Truman Show
. I'm guessing you've seen the movie, but if not it's basically about a 24-hour show that follows a man's life. Since it never goes to commercial, advertisements or product placement occurs throughout the movie.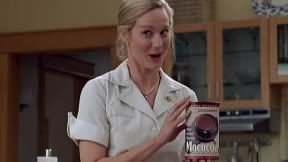 At one point the wife, holds up a package and says, "Why don't I make you some of this new 'Mococoa' drink? All natural. Cocoa beans from the upper slopes of Mount Nicaragua. No artificial sweeteners..."
Well, I had my own little moment this afternoon. Our admin/secretary emailed all the ladies at the office and said, "Does anyone have any nail polish remover at the office? I'm trying to get a marker stain off of Pat's desk." I'm not sure when or how I learned this, but I looked at my desk, my hand sanitizer looked back at me (I think it winked), and with that, I jumped up and headed for the reception area. I didn't have nail polish remover, but I thought I could help!
"Did you find any nail polish remover yet?" I asked.
"No," she said, "but I'm a little worried it may ruin his desk anyway."
"Well, maybe we should try this:"
I said as I walked up Vanna White style displaying my Kimcare hand sanitizer. Yea, that's right. I received it as a gag gift one year and never knew what to do with it. Well, I keep it on my work desk now. Somewhere along the road of life I learned that alcohol takes marker or paint off certain surfaces.
"Well, you're coming with me as my backup, in case this ruins his desk," she informs me.
"Heck no! I changed my mind, let's not try it," I pleaded. Pat is no ordinary man, this isn't a co-worker or my supervisor, no-no, this is
the
guy, numero uno, the executive director, head honcho, you get it...
the top
. But it was too late.
I hesitantly walked into his office. He asked what it was and I explained that hand sanitizer is comprised of 62% alcohol and alcohol is a major component of many cleaners. He seemed confused, but went along with it.
I entered that office as a scared young lady, but I left there a woman. Yep, that's right. Kimcare took that stain off like it was it's job. I left with the confidence to take on any stain fighting challenge.
KABOOM
and
Oxiclean
have competition, well, at least until the first insurmountable stain that Kimcare can't handle. In the mean time if you need me, I'll be traipsing around my office, with my bottle of Kimcare and pretending to be Vanna White. Let's hope the big guy was as impressed.